3 reasons why we love Giving Tuesday
When I was in college, I was all about doing escape rooms.
If you've never heard of an escape room before, picture this—you and a group of friends are locked inside a room that is intricately decorated and full of puzzles and clues. You then have one hour to search the room, uncover clues, and solve a series of puzzles to unlock the door.
One of the rooms I was in featured a large map on one of the walls. Lines of colored strings connected various places on the map. There were notepads with dates scribbled on them. And photos of people were pinned to certain locations. It was organized chaos.
When I started working at Kingdom Workers, I had no idea that I myself would yearly create my own version of an organized chaos wall display. But now that I've been here for over four years, I actually look forward to that time of year when we print out our marketing plans, hang papers on the walls and windows, make edits on sticky notes, and obsess over every detail for months. All for one single day.
And that day is Giving Tuesday.
It's something we start planning for during the hottest, driest days of summer. A time when you can't even imagine what fall weather could possibly feel like amidst all the heat and humidity.
In today's blog I'm sharing three things that we love about Giving Tuesday here at Kingdom Workers. And why we happily go crazy planning for the event. My hope is that by the end of this blog post, you'll be so excited for Giving Tuesday this year that maybe you'll start working on your own plans for the day. (No crazy string maps required.)
What is Giving Tuesday?
First things first—perhaps you have no idea what Giving Tuesday is and are a bit concerned about our level of obsession over here in the Brand and Creative department at Kingdom Workers. Well, you can rest assured that our passion for this holiday is well placed.
Giving Tuesday is a day for nonprofit supporters to celebrate the work being done by nonprofits, charities, and organizations all around the world. For us at Kingdom Workers it's a day when we get to unveil some really cool stories about how God is working in people's lives to create lasting, sustainable change.
You can get all your questions answered with our Giving Tuesday FAQ page. 
Giving Tuesday is celebrated on the Tuesday following Thanksgiving. It's nestled between Black Friday and Cyber Monday. And while those days offer great deals and opportunities to "treat yourself," Giving Tuesday is a day when credit card swipes and cash payments go towards a larger purpose—supporting the life-changing work of nonprofits like Kingdom Workers.
Which leads me to the first thing we love about Giving Tuesday here at Kingdom Workers.
1. We get to highlight and focus on how one of our programs is truly making a difference in the physical and spiritual lives of others.

In 2019, we talked about how our work with clean water in Indonesia was providing women and girls with better access to feminine hygiene health.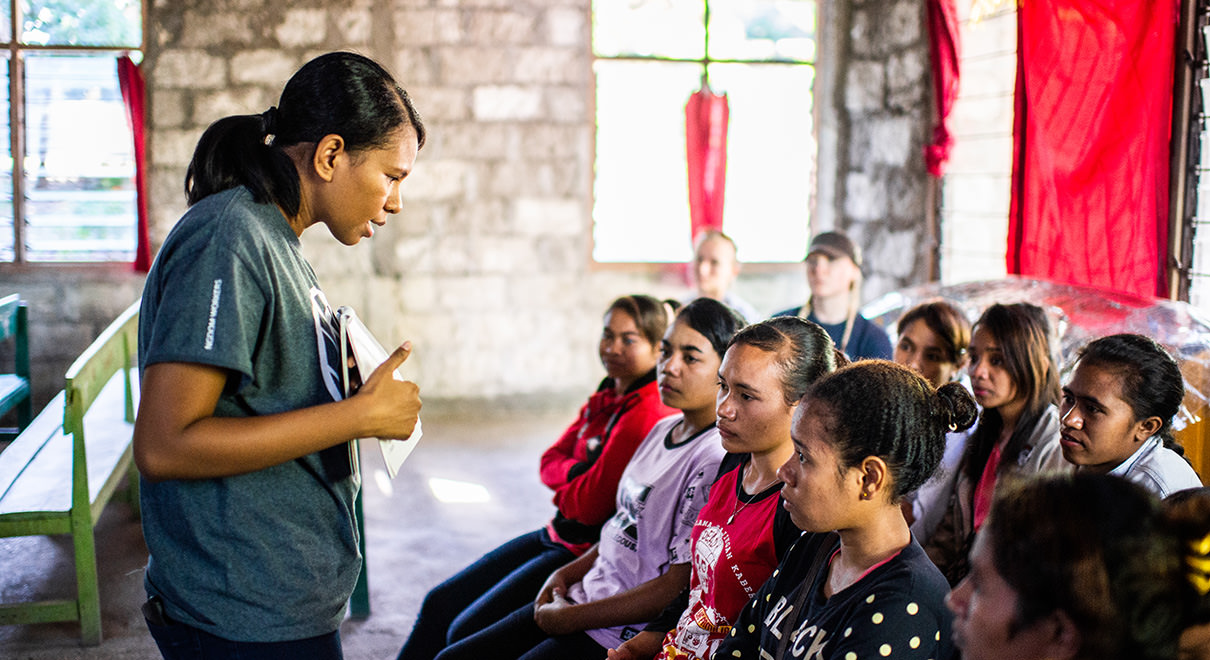 Santi, a nurse from Indonesia speaks to a group of young women from a rural village in Indonesia about female health.  
In 2020, we introduced you to a young man named Abdul who was being served by our Disability Care ministry in Malawi.  And how that connection was inspiring Abdul to help others like him living with albinism in the country.
Abdul smiles for the camera as he speaks about the needs and challenges people with albinism face in Malawi. 
In 2021, we showed how our Build Up: Mentoring Teens in Trades program had radically changed life for a young man named Kenny living in Milwaukee.
 Build Up apprentice, Kenny, works to measure items while working at his internship at WeatherTight. An internship that Build Up helped him get.
This year, we're taking you to the country of Nigeria in western Africa. Here, a group of volunteers from All Saints Lutheran Synod are giving up their valuable time to travel to remote villages and offer basic medical care —while sharing the hope of the gospel.
 Our team of volunteers in Nigeria pose for a photo during their annual refresher training. 
Sure, we share stories like these in our magazines, emails, and social posts. But Giving Tuesday is different. It takes what we normally do and elevates it to a whole other level. It's a choreographed symphony of videos, quotes, photos, blog posts (like this one), and more that all take place in a short timeframe.
Giving Tuesday is one day where we can show our supporters exactly how, together, their generosity is generating change. It's a day when we introduce you to our staff and volunteers through our long-form video content. Which brings me to the second thing we love about this holiday.
2. We get to introduce you to the real people making a real impact.
 At Kingdom Workers, we're all about creating meaningful connections. It's actually one of the three elements of the Kingdom Workers Promise. 
This year, with the focus being on our work in Nigeria, you'll get to meet our incredible team of volunteers. People like Peter and Sunday, who have backgrounds in healthcare, volunteer hours each week to ensure this program work goes smoothly.
Women like Mrs. Philomena who takes time out of her busy schedule to travel to remote villages and provide communities with the resources they need to live healthier lives both physically and spiritually. 
You'll also get to meet some of the people being impacted by the work, mothers like Paulina, who used to struggle to prevent her children from getting diarrhea, but now has the knowledge and tools she needs to keep her family safe.
 (Left image) Mrs. Philomena, a volunteer with All Saints Rural Health Services in Nigeria.  (Right Image) Paulina, a mother of four talks with our team about the challenges she faces and how the volunteers are helping her better care for the health needs of her family.
By connecting you to these people, you can see who your dollars truly serve. That what you give doesn't just sit in some bank somewhere, but that it goes to meet the real needs of real people all around the world.
And that brings us to the third thing we love about Giving Tuesday—you!
3. We get to celebrate you, our supporters
Giving Tuesday is such a fun day to celebrate the kindness, generosity, and dedication of our supporters. What we do wouldn't be possible without your generosity, your prayers, the hours our volunteers give, or the stories you share with your friends and family about our organization.
We truly couldn't have the kind of impact we have if it were up to just one person, or even a small group of people. It takes all of us using the God-given gifts we have to serve and meet the needs of people all around the world.
At the end of the day when I sit back and look at the kind of work I get to do—share stories of lives changed—I honestly can't believe how lucky I am. I am so thankful for everyone who considers themselves to be a Kingdom Worker.
I know Giving Tuesday is a few weeks out, but that doesn't mean we can't also take a moment right now to genuinely say thank you to all of you.
Those are just three of the reasons why we love Giving Tuesday here at Kingdom Workers. It's why we go crazy to ensure that everything for this time of year is all set up as well as it can be. Because Giving Tuesday isn't about Kingdom Workers the organization, but rather it's about everyone who is a Kingdom Worker. Our volunteers, the people we serve, the people who support our work, the communities who pray over what is being done, and the teams who help make the work we do on the ground possible.
We know we're stronger together, and we are so excited to see where this year's Giving Tuesday takes us.