Night to Shine
February is often associated with cold temperatures and Valentine's Day. But another special event happens worldwide in February that you might not know about. Night to Shine is a prom event for teenagers with special needs that takes place every year on the Friday before Valentine's Day. It was started by the Tim Tebow Foundation in 2015. Since then, it has grown to become a global event that each year celebrates over 100,000 people who live with special needs. 
This year, Grace Lutheran church decided to host Night to Shine in partnership with Kingdom Workers. Here's what Kingdom Workers volunteer Donna had to say, "It's the first time Grenada is going to be hosting this event and we want Grenada to remember this. We look forward to taking everyone through the whole experience." 
Night to Shine showed individuals with special needs in Grenada how loved and valued they are. Our hope is that events like this continue to improve the way people with special needs are cared for on the island of Grenada. We know that a single event won't change everything, but it does give us the opportunity to celebrate God's love for all people. 
"Daniel and myself had fun, he loves his gift—he wants to wear his crown everywhere! Thank you so much, it was a very nice event." Sherma Searles, Daniel's mom.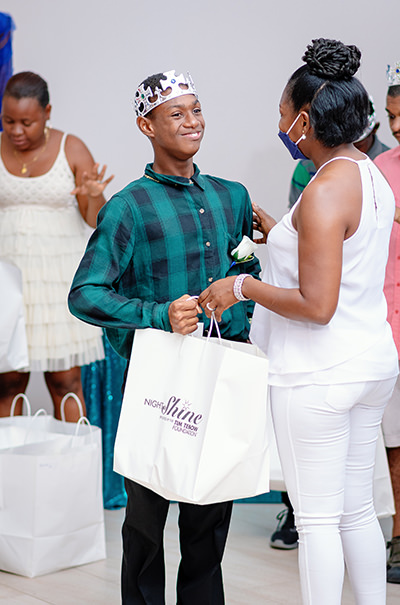 Night to shine began with a walk down the red carpet for individuals with their special guests. Shown below in the picture to the right is Donella, right, walking with her best friend Katie. They first met through one of our camps for people with special needs and love spending time together. 
Keisha Phillip Franklin, Grenada Program Coordinator for Kingdom Workers, handed out gift bags to each honored guest, which included goodies like a custom t-shirt, water bottle, treats, games, and more. 
Crowns and tiaras were given to each honored guest to make the night one to remember. Makala, in the striped shirt, and Travis, in the blue and white shirt, enjoyed taking photos with their mom and friends.