Breaking the silence surrounding female health
In rural Indonesia we began with the goal of bringing clean water to villages. Since then, clean water has changed the lives of countless individuals. More children are attending school, communities can grow their own food, and access to clean toilets has improved sanitation and health.
Now there is an opportunity to specifically bless another group—women.
Getting to many of these Indonesian villages requires driving up steep mountain passes, across rivers, and along rocky paths. It's a journey that can take more than three hours one way. Because of this, most women are not able to travel into town each month to purchase feminine hygiene products.
Without menstrual pads many girls have to stay home and miss school when on their period. In addition, few medical professionals travel to these villages. This is a life-threatening problem for pregnant women who need medical attention. In fact, rural Indonesia has maternal and infant mortality rates significantly higher than other countries around it.
There is also an educational gap. Few women know more than the basics about their bodies and reproductive health, which means they can be taken advantage of without even knowing it.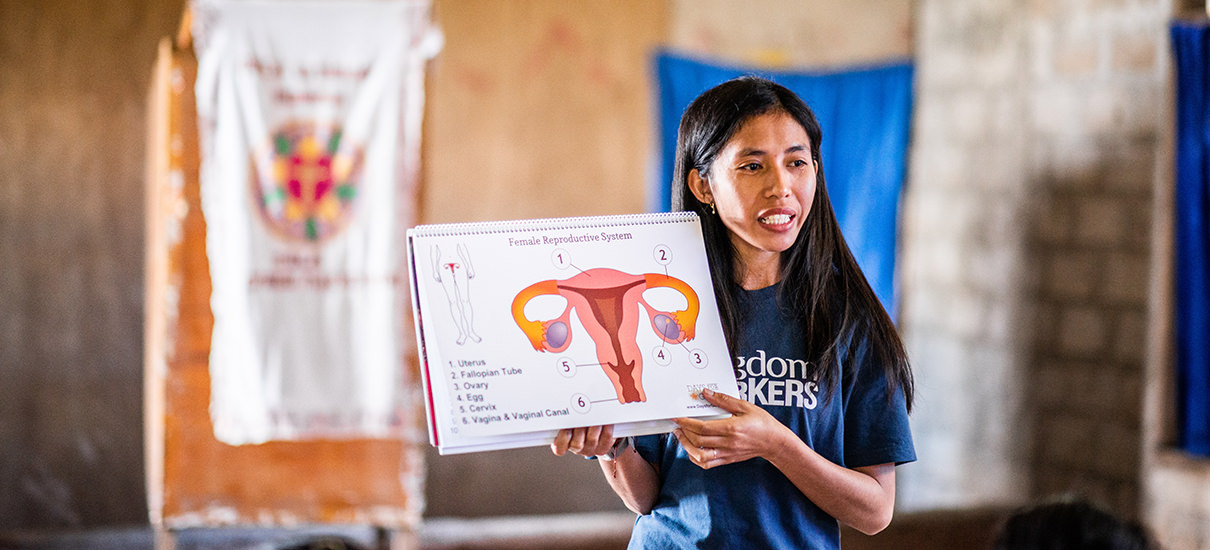 Yesti, a local volunteer nurse, explains the female anatomy and birth cycle to a group of mothers.
Recent Kingdom Workers educational health workshops, in partnership with Days For Girls, have been tackling these issues. With better access to water it is now possible to introduce reusable menstrual pad kits which use water to clean and sanitize the pads for reuse.
Health professionals who run the workshops educate women on the basics of female anatomy, reproductive health, and menstruation. The accompanying devotions show women how to invest in and stand up for themselves while growing in their faith and personal relationship with Christ as His daughters.
Offering a safe place to learn the science behind God's human creation empowers women to break the silence surrounding women's health and spiritual issues.
Each workshop is led by a team of female volunteer health professionals. Santi, one of the volunteer nurses, told us why this program matters so much,
"I want to show these young girls that they can be more and that they can dream big. I want them to know they can grow up to be nurses, teachers, or even go to places like America."
Santi, a local volunteer nurse, explains how the menstrual cycle works to a group of young Indonesian girls.
As more women receive this education, real conversations can start taking place. Conversations that are open, based on scientific understanding, and grounded in God's truths. Being a woman means having God's gift of bringing life into the world, it means having the title of "God's beloved daughter" stitched into their hearts.
When women know about their bodies, it gives them the courage to say what is done to them, to speak up and receive access to maternity care, and it gives them the freedom to live the full lives God has created for them.
Breaking the silence doesn't mean destroying centuries of tradition.
It means finally giving a voice to a population routinely pushed to the margins, and when women get to use the voices God gave them to speak His truths, it creates a better future for everyone.
A young mother holders her baby close.